The Doc Type Attachment Card gives you a more detailed view of the document you are attaching to your document type and further setup options that you can manipulate to show the document that best suits your business requirements.
The first FastTab is the General FastTab, which simply detail the document type you are on and what type of attachment you are looking at. The attachment type is based on the attachment line you highlighted before pressing the action.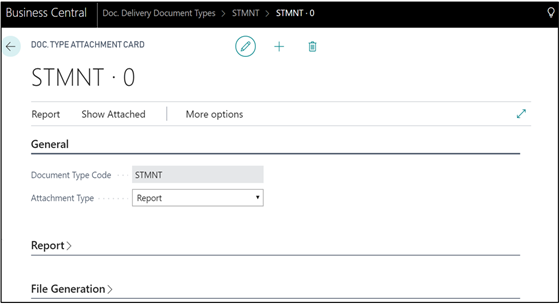 Following on from general we then have the Report FastTab, most of the fields you will recognise.

However, there are a few extra ones that you may want to use, such as; Custom Layout Code. This allows you to create a custom layout report which will then be sent put as part of that report's attachment, overriding the report you have populated in the Report ID field.
In the filters section there are 2 fields relating to the report's filters. By default, the field Report Filter Source will be set to Primary Table. This means that based on the records you select it will filter the report using your selected records as they were selected from your primary table. For example, when running the Order confirmation, you are selecting records from the sales list. As the document types primary table is the Sales Header it means the report will be filtered based on you selecting the customers documents.
You also choose the option Linked Tables; you use this in a scenario where you have a report running from a linked table and you need those filters to run the report.
As mentioned previously if your attachment is of type report all the above fields will be visible including a field called Optional.

By default, this will be disabled. This action is used in circumstances where you are attaching a report to another report based on a set of requirements. For example, when sending a reminder to a customer you may also want to send the posted invoices related to that reminder. In most circumstances this will work as the payment is being applied to an invoice. On occasions where it isn't, and you are simply reminding the customer to pay an amount the document send will fail as no attachment could be created (there is nothing to create).
Using the same scenario above but enabling the optional field no errors will occur. This means if there is something to attach so an invoice to send out with the reminder then it will do. If there is no invoice that can be generated, then it will be just the reminder that goes out to the customer.
NB: You only flag the report that you want to be optionally sent. In the case above it will be set against the invoice report. The reminder you still want to send out, but attaching the invoice report is optional based on whether it can be created or not.