Send Email
Whether it is from within a record, i.e. a Sales Order or selecting a record(s) from a list page choose the option if you select a record of one type and choose the Send Email (Doc. Delivery) option, Microsoft Dynamics 365 Business Central will send out the document to the pre-configured email address on the Customer Card. 


On clicking Send Email (Doc. Delivery) you are presented with the Document Type Selection screen. This lists the documents that will be sent. It displays the customer contact information. It offers five initial options for how to send the documents.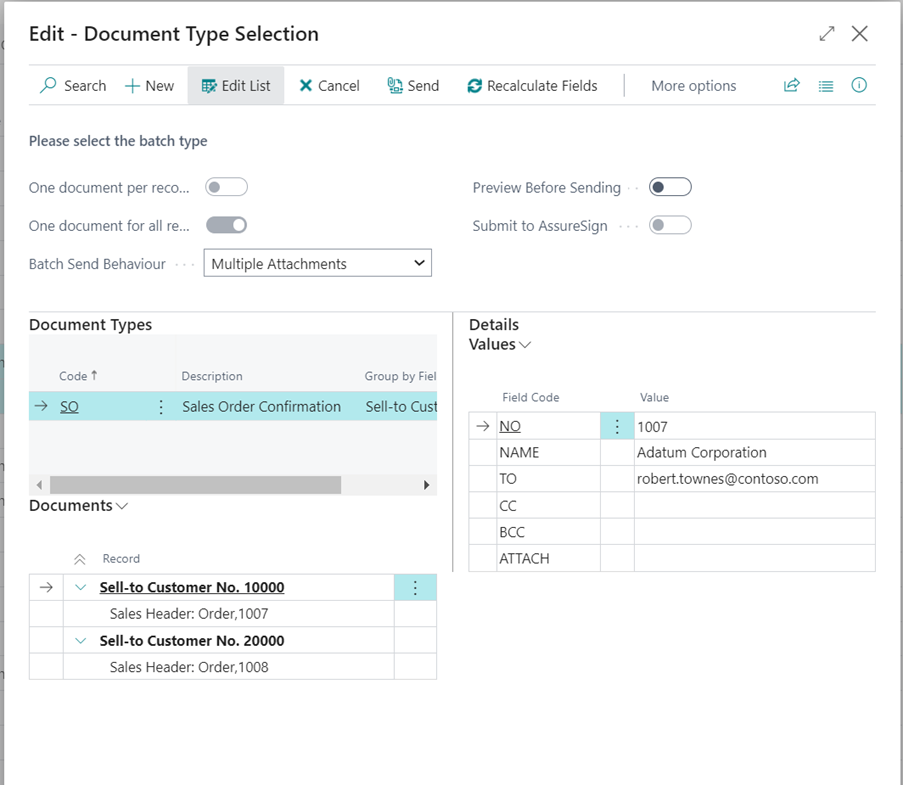 When selecting the batch type, there are three options to choose from for handling documents:
You can send each of the documents on a separate email by selecting the option One Document Per Record. Or you can send one email with each of the documents as separate documents. To do this choose One Document For All Records which will then allow you to choose an option for Batch Send Behaviour. To send as separate documents leave the option as Multiple Attachments. Changing it to Single Attachment means you want to send one email with the documents combined as a single attachment.

The option to Preview Before Sending can be set at Document type level or at record level. It allows you to view how the email body will look and what will be attached based on the setup of the document type and the records you have selected.
Once the above has bene chosen you can then look to review the other details on the page:
Document Types confirms the type of document being sent (i.e. Sales Order or Posted Sales Invoice)
Documents lists the documents with document numbers that will be sent.
Details gives you the details that will be used in the email, for the company and the recipient email address. If you need to amend or add to the email address, then click in the field to make changes or additions.
NB: It is this screen that you may want to change the TO record for example (field values) or select a different Document type (it is possible to have multiple document types running off the same primary table, but may be filtered different or be running a different report)

When you are happy with the settings, click the Send action in the Ribbon.
Depending on how you have setup your Document Type Selection, you may be presented with the screenshot below, based on choosing to Preview Before Sending. Otherwise Microsoft Dynamics 365 Business Central will attempt to send the record(s) using your Email settings.
About the Submit to AssureSign setup you can read later.
Adding Ad-Hoc Email Attachments
At the bottom on this page, you are able to add ad-hoc attachments to the email by using the Add Attachment and Remove Attachment Actions.
NOTE - There is a system limitation of 3MB for the attachments.