At the beginning of the user guide it was said that you can setup Clever Promotions using the Assisted Setup(s) provided. The prompts for Assisted Setup will appear as soon as you sign back into Dynamics 365 Business Central (installing an app requires you to Sign Out and back in again). The prompts are identified as Notifications along the top of your role centre.
By clicking on the link Open Setup on the notification, it will open the Clever Promotions page.
Using the Assisted Setup provides you with a step by step guide of everything you need to setup to successfully run the Clever Promotions App.

If you accidently close the notification without going through the setup, don't panic! there is another way. Simply use the search to find the Assisted Setup screen.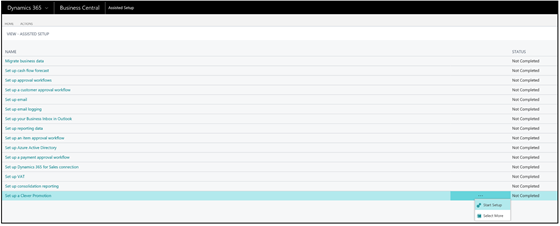 From the list choose to run Set up Clever Promotions, by clicking on the Start setup option.
Once you have got past the welcome message you will be presented with a series of setup prompts.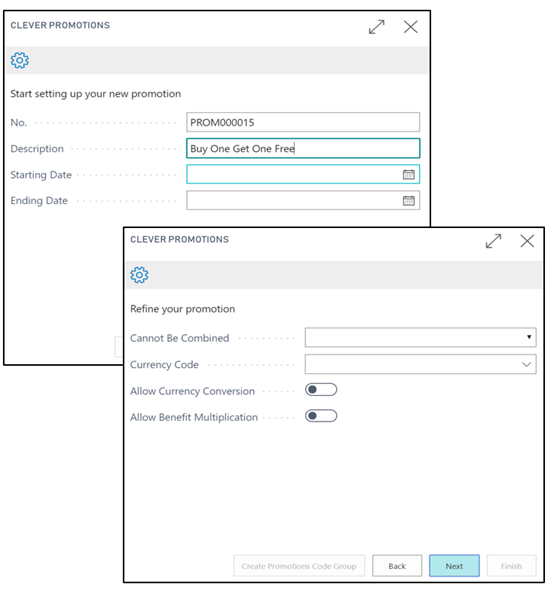 Like the manual setup screen, you will need to give your Promotion a description and a unique number.
NB: If you have a No. Series setup for promotions in the Sales & Receivables Setup page that will be considered for the No. field (it will auto populate when you hit enter or tab on the field) otherwise you will have to enter one in manually
You can also enter a Start and End date for when you want this promotion to run. Leaving it blank means there are no restrictions, and should a sales document qualify for the promotion it can be manually or automatically applied.
Clicking Next takes you to a setup page with further options for you to select to refine your promotion.
Choose who qualifies for your promotion, as previously mentioned you choose from one of the three options. Then choose a Sales code, if you choose Customer or Customer Price Group
Chose how the sale document can qualify for the promotion.
NB: The option Promotion Code will be mentioned in more detail later in the user guide.
The next step is to setup the benefit of the promotion will be, should the sales document meet any of the criteria you set up previously.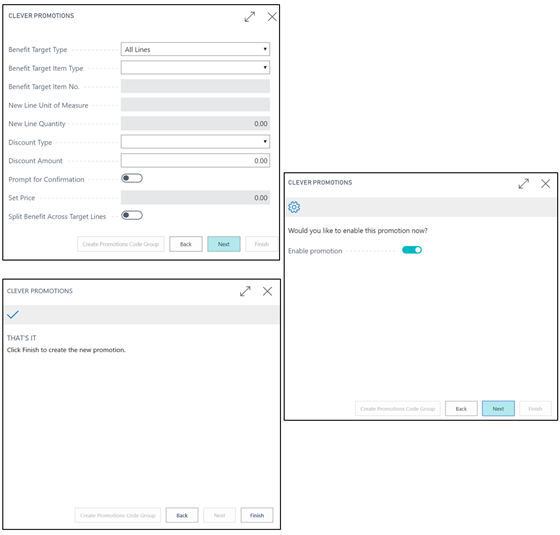 Once you have setup the final few steps and confirmed you are happy with the promotion you have created, you can then enable the promotion.