With the Configuration packages imported and no errors have popped up, you can begin to go through the Handheld Setup FastTabs and see how the default configuration import has adjusted the setup and how you can adjust them further to suit your business processes. The first FastTab is the General FastTab.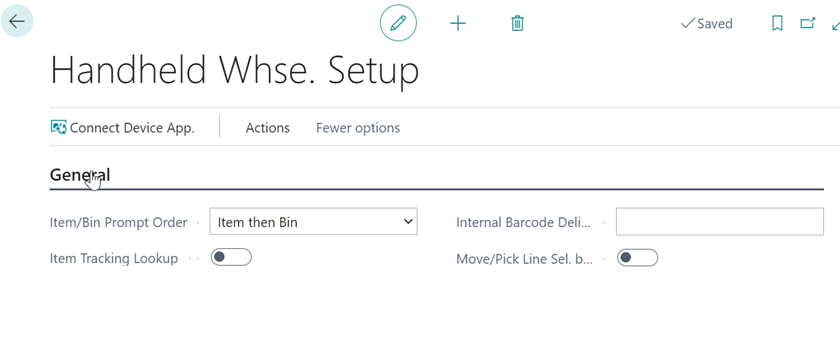 The config package has set the field Item/Bin Prompt Order to Item Then Bin, however there is an option to use the drop-down option on that field and change to Bin Then Item.

On the device depending on the function you are running you will be prompted for certain bits of information. Based on the option you select for Item/Bin Prompt Order will depend on which field prompt gets asked first.
By enabling the function Item Tracking Lookup, the devices will then ask the users to select from a list of lot/serial numbers to assign to the line you are processing rather than waiting for the user to scan that information when prompted.
The next field to setup is the Internal Barcode Delimiter, our solution prints put-away labels where it prints a barcode at point of receipt - this is made up of the receipt number and receipt line number separated by the delimiter. The default is '- ', which will appear in the printout if the field is left blank.
The final field is Move/Pick Line Sel.by Lookup. By enabling this option during either your movements or picking functions the device will present you with a list of activity lines to process rather than giving you the next one. This is useful especially for picking where you may want to pick a line halfway down the order rather than the next line presented to you on the device.