As mentioned on the previous slide, Item references by default allow for duplicated codes where 2 items will have the same reference as each other for either a 'Customer', 'Vendor' or 'Bar Code'. 
Turning this on to prevent this is really easy. Open the "Inventory Setup" page that you can find in the search bar. In the General FastTab, there is a new section for Item Reference codes with the below 3 options.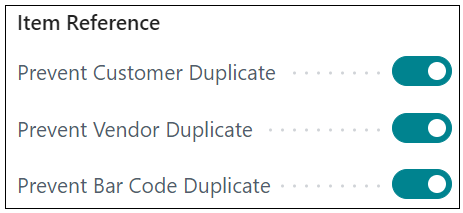 By default, these are all switched to 'No' (which is the same as standard behaviour), allowing duplicate codes. Within this 3 options, simply change them to 'Yes' where you want to prevent duplicated codes from being used on "Item Cards" for Item References. 
If you require further guidance when completing the setup for this, you can use Assisted Setup to complete this action. This process not only guides you through the setup actions required but also provides more instruction on how/why these are required. This is really beneficial for Users that may need more help when setting up features within Clever Trade Plus. 
To access this, you can search for Assisted Setup in the search bar which will open up a page like the below image. Choosing the Set Up Clever Trade Plus will run through all the setup for most of the features within this app, which you can skip or complete as you go. This is also really helpful should you want to complete the setup for a number of apps at once.