Printer Settings
When printing via PrintNode to Zebra printers, you may need to set the properties against the print queue on the PrintNode server to get the labels to print with the right size and orientation.
Unit: Inch

Orientation : Landscape or Portrait

Size Width : 4

Size Length : 6

Unprintable Area Left: 0.05

Unprintable Area Right: 0.05

Unprintable Area Top: 0.05

Unprintable Area Bottom: 0.05
Different printers or driver may display this differently, but it should look similar to this.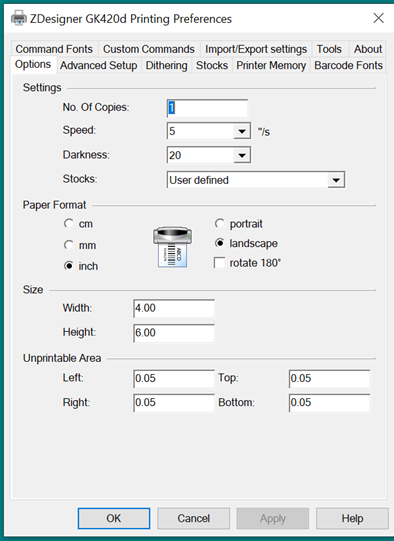 Due to the files that are passed back by the various Shipping Agents, you might need different settings for each Agent. This may necessitate setting up different print queues on the Clever PrintNode print server for each one, all pointing to the same printer.
Note: Clever Shipping Agent Integration has no control over the orientation, content or format of the shipping label. We simply receive it from the shipping agents API and print it 'raw'. In the vent of your label not being correct you will need to contact your shipping agent.