Following on from the Data Selection FastTab is the Output Screen FastTab. There are a range of options that you can be adjusted to ensure the application is suited to your business requirements.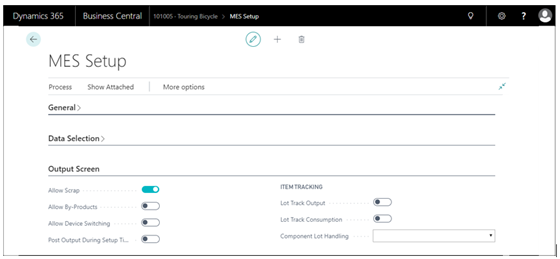 The Allow Scrap tick box determines whether to display the Scrap button in the MES, as shown below. It means that users can see the button and register scrap during the production process against each output operation.

NB: Posting scrap does not adjust the Quantity Remaining to output on the routing line as scrap is a separate posting. Once you confirm a Scrap Quantity and click OK on the scrap screen it will post a Capacity Ledger Entry against the production order updating the field Scrap Quantity on the line.
If you are planning on using scrap, make sure to setup Scrap Codes which are part of the standard manufacturing functionality within Microsoft Dynamics 365 Business Central. The Scrap Code selected by the operator during the scrap process can be seen in the MES Device Log which we will detail later in the user guide.
NB: The Default Configuration will import some Scrap codes; however, you may want to go into that page and add your own so that they are specific to your business.
The Allow By-Products flag enables you to identify that, as a business, you want to have the ability to register the output of By-Products within the production process. Selecting this option shows the button on the device in the navigation pane (just like scrap).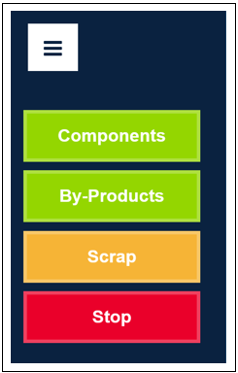 To perform the output of By-Products you need to first setup which Item(s) can be a By-Product of your Finished Item. In Microsoft Dynamics 365 Business Central open the MES By-Products screen to set these up, as detailed further on (MES By-Products section) in the user guide.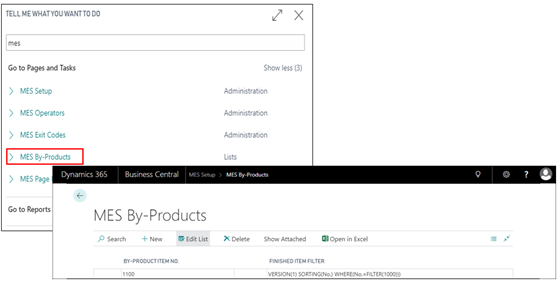 Setting the option Allow Device Switching indicates that a Device is not tied to one machine, therefore giving flexibility where required (or for unexpected circumstances) for any device to be switched to another Machine Centre by the operator.
Choosing to Post Output During Setup Time will determine whether the operator can post output during setup time.
Within the Output Screen tab, we then have a sub-section of options under the Item Tracking Heading for Serial and Lot Numbers.  Please refer to Clever Dynamics - Item Tracking - Lot and Serial Numbers for more information.