To the final bit of setup, the extra FastTab on the customer card, this will only be visible once the app has been installed. The Clever Credit FastTab is where customer specific credit control settings are defined. The setup on the customer card takes precedence over the global Clever Credit Setup you have done previously.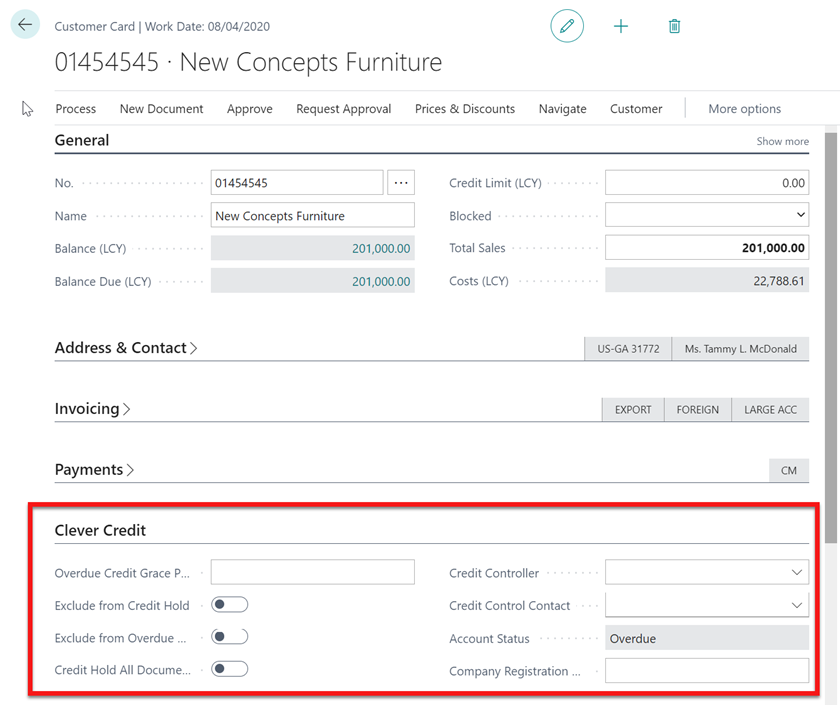 Overdue Credit Grace Period: If completed will add on an extra period on top of the Payment Terms Code already given to the customer, e.g. an entry of 5D here would add on five extra days before they will go on hold.
Exclude from Credit Hold: Will stop this customer from ever being credit held for any reason (for example this may be used sparingly for important customers that we would never want to put on hold).
Exclude from Overdue Hold: Will stop this customer from ever being credit held if they go overdue on invoices. Order will still be held if the customer has a balance over their credit limit.
Credit Hold All Documents: Will ensure that all documents for this customer go on hold, regardless of credit limit or overdue status. This may be used if a customer has a bad track record or presents a financial risk.
Credit Controller: The Credit Controller that is responsible for this account. This determines the user who will see this customer account on the Clever Credit page.
Credit Control Contact: Populating this field indicates to the Credit Controller who they should be contacting regarding the payments. Using the assist (the three little dots) next to the field, users will be able to choose any contact linked to the customer as a contact. The contact details (email and phone no.) will be shown on the Clever Credit page for this customer.
Account Status. This field is greyed out and not editable to users. It does however indicate the state of the customer's account when placing or chasing payments from the Clever Credit page. The four status include:
Blank – means no status has been set

Overdue – means that a customers has an overdue payment against their account

Over Credit Limit – means that the customers is over the credit limit on their account

Blocked- means that the customer has been flagged as blocked in Microsoft Dynamics 365 Business Central