Clever Credit Setup
Once the app is installed there are several ways to set it up.
The first option is to go through the setup manually. This consists of going into each of the setup pages (highlighted throughout the user guide) and creating the required business setup. The other option is to use the Assisted Setup(s).
The first thing to do is to navigate to the Clever Credit Setup page by typing it into your search bar.
To apply the Default Configuration package, select the option from the menu, you may also get a notification pop up as your can see in the screenshot below.

If you want to set it up manually, you will notice a range of different options that can be selected as well as actions along the ribbon, these will be explained in more detail further on in the user guide.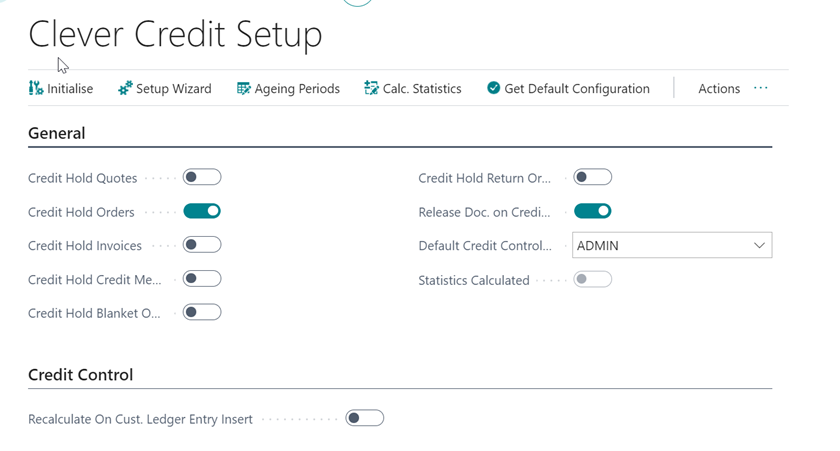 The Credit Hold boxes, in the General FastTab, control which document(s) should be held if a customer has an overdue balance.
If Release Doc. On Credit Release is turned on, this will mean that when a Credit Controller navigates through Business Central to release the document from being Credit Held, it will also set the Status field (situated on the document header) to Released. This indicates to users and Business Central that the document(s) can move through to the next stage of their process.
The selections made in the Clever Credit setup page are known as Global Settings. The example setup done in the screen shots above, will mean that any customer who is over their credit limit or has an overdue payment will have their Sales Orders put on hold automatically.
Default Credit Controller
The Default Credit Controller can be selected during this stage of the setup. This user will be able to release all credit held documents and will see customers on the credit control page that have not been assigned to another Credit Controller.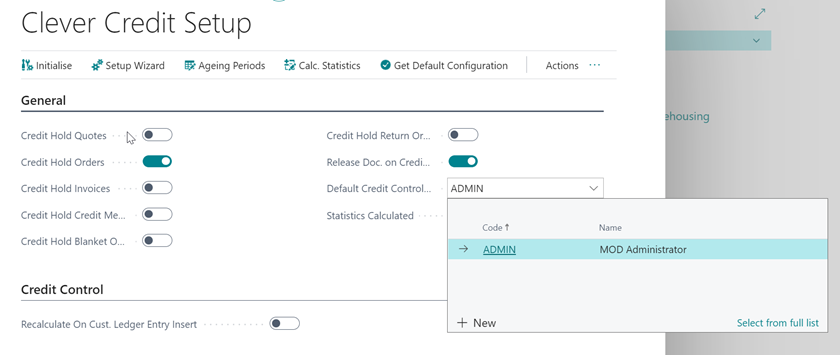 NB: The Default Credit Controller is created based on the first person (within a Company), who accesses the Role Centre after the Clever Credit App has been installed. The flexibility within the app means that from this page you can create a different user to be the default Credit Controller, should you require.
Credit Control

Under the Credit Control FastTab there is a setting called Recalculate on Cust. Ledger Entry Insert.
When this option is enabled, the values and ledger entries on the Clever Credit screen will be updated as and when postings are made to the customer ledger. This means that the values on the Clever Credit page will be updated continually and will always show real time figures within your appropriate aging bands.
If this field is unchecked the recalculation will only be performed each time you reopen the clever credit page.
Notifications for when a sales document has been credit held can be optionally disabled.
To disable the notification, navigate to the My Notifications page and uncheck the Enabled field.