Licensing for Clever Dynamics apps is controlled by the Clever Config app which is required by all of our apps. If you install one of our apps from AppSource, Clever Config will automatically be installed as well.
Retrieving License Details
The first time you open one of the pages belonging to the app e.g. Clever Credit Setup or Clever Document Delivery Document Types, Clever Config will make a call to our licensing service with details of your installation to retrieve your license from our server.
Trial Use of Apps
If you do not currently have a license for that app one will be created to grant trial use of the app for 30 days.
Details of the apps that are on your license are visible from the Clever Dynamics License Registration page. Search in the Tell Me box to open this page.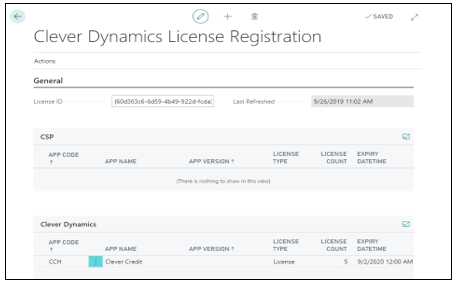 This page shows the list of apps that your license entitles you to as well as:
the license type (trial or license)
the license count (see below)
the expiry date of the license for each app
the number of credits which have been consumed by each app since the last license refresh (see below)
the number of remaining credits for each app
License Count
Most of our apps are covered by a single license for the entire tenant. Some apps, however, require a license per user e.g. Clever Credit is licensed by the number of credit controllers you have.
Updating the License
Clever Config will periodically make calls to the licensing service to check for updates. The date and time of the last request is displayed on the Clever Dynamics License Registration page.
You can force a refresh of the license details by using the Activate License action at the top of the page. You may be asked to manually activate the license by our support team if they make changes to your license.

License Credits
Depending on type of license that you have, some apps will have a number of credits that you are entitled to.
For example, queuing a document to be sent by Clever Document Delivery consumes 1 license credit. When a trial for Clever Document Delivery is activated you will be granted 50 credits. Once the trial has expired or all 50 credits have been consumed you will be unable to queue any more documents.
Please contact sales on This email address is being protected from spambots. You need JavaScript enabled to view it. if you are ready to purchase a license for the app.