Breaking down the output screen and the information you are presented with, you will see the top of the device shows the Machine Information.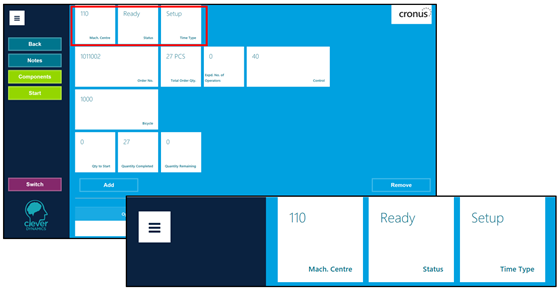 The first bit of information relates to the Machine Centre. This could be either based on the operator's choice (when they logged in) or could be setup against the device.
The next field along is the Status, this is the state in which the machine was left in by the last operator. This is also reflected by the colour of the background, for example the machine was stopped the status would be stopped and the background would be red. The colour is based on setup, which was detailed earlier on in the user guide.
The final bit of information relates to the Time Type. Certain routing lines require setup time before the actual output can be started. If a routing line has Setup Time against it, the operator will be required to carry out that action first before the Time Type will change from Setup to Run.