Now that the setup has been done for Mandatory Ship-To codes for Customers, you can start using this feature. 
To see this process in action, open up a "Sales Order", create this for the Customer you just changed this for and ensure you have Lines populated. 
Should you try to 'release' this "Sales Order" without making any changes, you will get the below error. This shows the feature now working because the correct Ship-To code has not been chosen in order to confirm where the delivery is going. This now prohibits the User from being able to send the goods to the Customer address, who may be unable to take deliveries.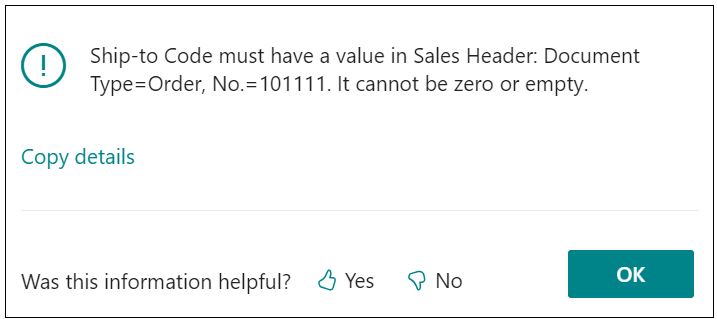 In order to correct this "Sales Order", scroll down to the Shipping and Billing FastTab. You'll notice here that the current Ship-To address is 'Default (Sell to Address)', meaning the goods will be shipped to the Customer address unless you change this. In order to select the new Shipping Address you created, click into the dropdown on this field and select 'Alternate Shipping Address'. This will open up your "Ship-To Addresses list" for you to confirm the correct address to use for shipping. 

Now that you have selected the correct Shipping Address for the customer, you can 'release' this "Sales Order" and continue with the remainder of your process in your usual way.