Once the Default Configuration has been run and the initial setup screens populated, you may want to investigate some of the setup options mentioned previously, the first option is Test Mode. Test Mode can be found on the Document Delivery Setup page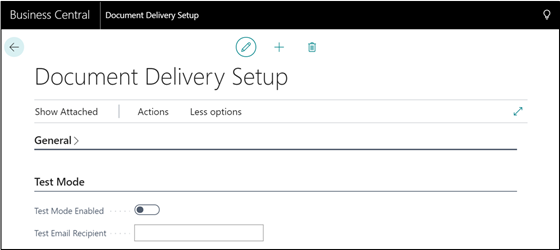 Here in the Test Mode FastTab, you can input a Test Email Recipient. Doing so means that all emails will be sent to and from the test mode recipient allocated in the field.
This enables you to test the app without physically sending documents to your customers and vendors. Allowing you to adjust the setup to fit your business processes and model.
To ensure that the Test Mode is activated, make sure the box Test Mode Enabled is flagged as on. Once you want to take the Document Delivery app off test mode and into your live environment, simply untick this box.