Completing the Clever EDI end to end process means sending out your Invoices. Outbound messages can be sent manually or automatically, these settings are defined per trading customer by the Auto Send option on Document Agreement, mentioned previously in the User Guide.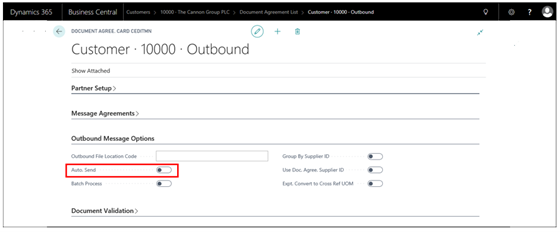 If the Auto Send flag has been enabled, then when you or a user comes to post the Sales Document then the EDI document will automatically send out to the customer without any user intervention.
If the document is to be sent manually you must open your Dynamics 365 Business Central document you plan on sending and click on the action Send EDI Document.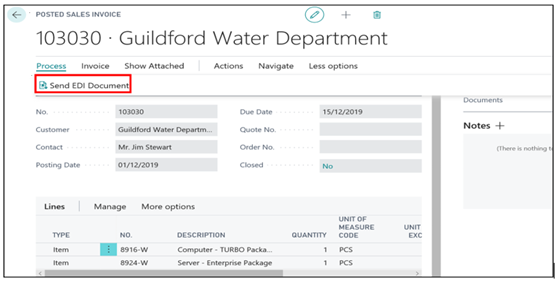 Once sent a prompt will pop up to inform whether it was successful or not.
Any Outbound Documents that have failed to map to the outbound table, due to missing setup UOM, cross references etc.. A failed entry will be created in Outbound Document Log with the error stored against it. This means an outbound document has not been created from the source document as it has failed to validate.
To get to this page use the Search from your Role Centre.

NB: If an outbound document has already been created for the source document this will be recorded in the log as an error to prevent duplicating the same source document.
Like Inbound Documents you can review the processing error and then resubmit the document once the error has been resolved by clicking Resubmit Document.

In the event an outbound document is created but is unable to send to the EDI service (most often this would be due to temporary connectivity issues) the record will show in the Outbound Document List (use the Search on your Role Centre to navigate to this page) where you can Resend Document from the Process tab.

View the document Card for each outbound message and Send Unsent Documents from the actions tab.