Like some of our other apps Clever Document Links requires a dependency to be installed. Another app of ours called Clever Config will be installed at the same time.
NB: You should not Uninstall Clever config if you plan on using the Clever Documents Links App.
Below we will explain the requirements for setting up the app and how importing the default configuration will save you time in getting the app ready for use. The first thing to do is navigate to the Document Links Setup Page.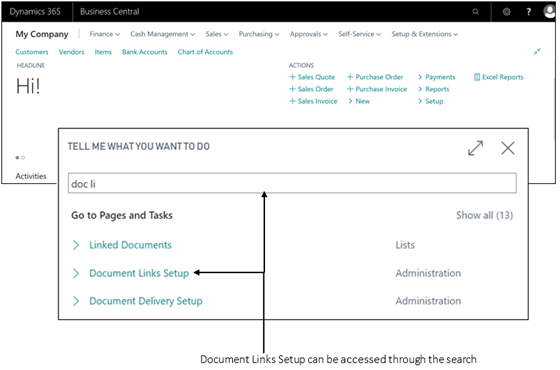 Once on the Document Links Setup page you will see the different options available to you.
The first thing to do is click on the Actions tab on the ribbon and select the option Get Default Configuration.
By running the Get Default Configuration action, a set of commonly used Document Types and the corresponding Search Fields are populated into your Microsoft Dynamics 365 Business Central environment. Further on in the user guide you will find more information on Document Types and Search Fields.
Other actions on the tab include Test SharePoint Connection, which is only available when you choose to store your document s in SharePoint and Update Archive Location.
Each linked document within Microsoft Dynamics 365 Business Central has details of where it is stored individually. In cases where you would like to move the documents and need to update the file path location for document storage on the setup page you will need to run the Action Update Archive Location once you have manually moved all of the documents to the new location. This can be used in cases where you are moving from database to a network storage option, or moving to a different SharePoint Site/Folder.
After running the Get Default Configuration action the next bit of setup you need to do is determine where you want to store your documents. If you drop down on the field File Storage you have two options.
The Database option will store documents within your database.
Clicking the SharePoint option in File Storage field will bring up a new FastTab called SharePoint Settings, to set up this service.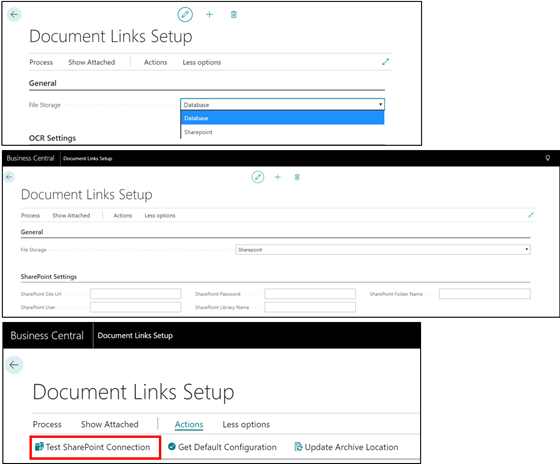 You may want to run Test SharePoint Connection once the fields have been filled in using the button in the Actions ribbon, to make sure your connection is correct.

The OCR Settings FastTab allows you to input an OCR Service User and Password. Populating these fields will enable Microsoft Dynamics 365 Business Central to read barcodes and find a record to match them within the database.
NB: You will need to purchase the OCR Service separately.
Determining SharePoint Settings
The correct SharePoint settings cannot necessarily be determined from the URL at which you access the Document Library. Follow these steps to find the correct URL for the Site and the Document Library:
Site
Navigate to the Home page of the SharePoint site

Click "Site information" from the gear icon in the top right-hand corner

Click "View all site settings" from the pane that opens

Click "Title, description and logo"

Copy the URL from the bottom of that page to the SharePoint Site field on the Document Links Setup page
Document Library
Navigate to the Document Library that you are going to archive documents to

Click "Library Settings" from the gear icon in the top right-hand corner

Copy the "Name" from the top of the page into the Library Name field on the Document Links Setup page