Once you have run the Default Configuration you will notice other actions that you can run. One action you need to run after the default configuration function is the Register Application option.

By choosing this option you are giving consent to the MES App to read data from your Microsoft Dynamics 365 Business Central.
Please be aware that if you are a customer using our Clever MES app on Business Central on premise, you will need to contact us at This email address is being protected from spambots. You need JavaScript enabled to view it.. We will then be able to talk you through the steps required to register your application, which is different to the details below.
NB: It has to be an administrator that does this as they are giving consent for the whole organisation.
Clicking the option will notify you that only an administrator can give consent for users to use this application and if you would like to begin the process. Click Get Started to continue
You will be prompted to then login as administrator, if at this point you don't have the correct credentials don't worry the administrator can log in later on using the function Authorisation, on the MES Setup, actions tab to complete the authorisation.
If the credentials are correct you will be then asked to Accept the Permissions for your Organisation.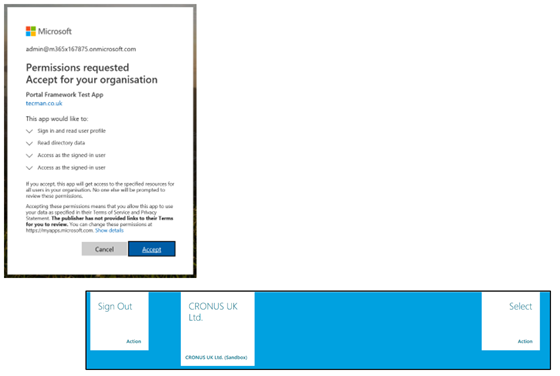 Once complete you will be redirected to your portal to choose the company you are working in to begin your production process.