Default Ageing Bands are automatically created when you install Clever Credit and can be updated as part of the Setup Wizard option on the "Credit Control Setup" screen.
In addition to the above you can view and update Ageing Bands at any point in time by selecting the Ageing Periods action found on the Setup menu of "Credit Control Setup".  
The Ageing Bands List will open showing the existing Ageing Bands within your system and from here you can make any changes as required, with Period Start and Period End being Business Central Date Formula type attributes, for which further information is available here.
The table allows for a maximum of 10 different ageing periods. Below shows the default values that are installed with Clever Credit.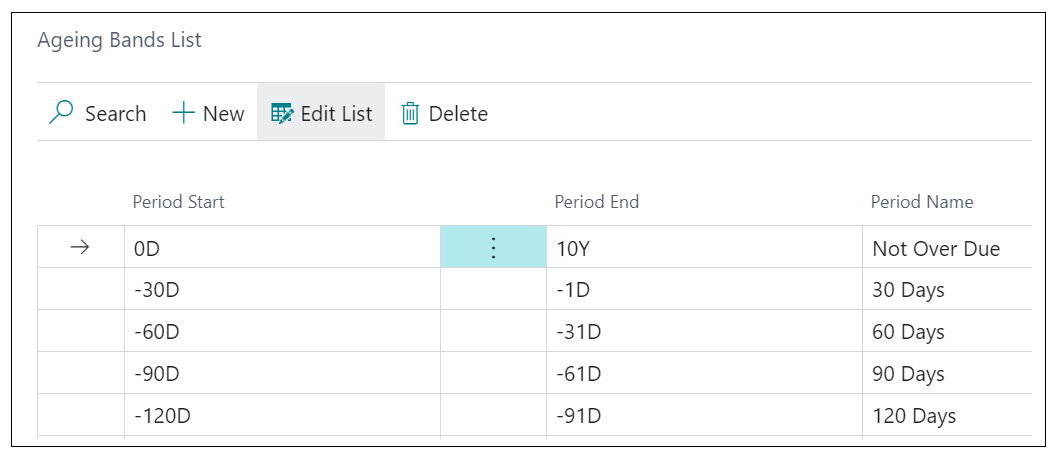 The purpose of Ageing Bands is to provide visibility to the Credit Controller in regards to how far overdue a customer's payment is to them for a given transaction. This helps manage and prioritise the actions that need to be carried out. 
If you add/remove Ageing Bands you need to run the Recalculate All action from the "Customer Credit Status" screen so that the updated Ageing Bands are visible on screen to the users.
NB: Overdue balances are displayed in red font and will remain in BOLD font whilst they continue to be overdue. Any changes made to Ageing bands in the setup will be reflected where used in Business Central.
Ageing Bands are also visible from the "Credit Control Interactions" to give you full visibility of what is required to follow up on. Click here for more information on Interactions.