If you use Shipping Agents to send out orders to your customers, specific Shipment Bins can be optionally setup and allocated to a Shipping Agent/Shipping Agent Service where required.  The Shipment Bins can then be used on Warehouse Shipments and assist with collecting all Consignments for each individual Shipping Agent.
You can then open up the Shipment Bin Page, which is located under the Location Ribbon Menu on the Location Card.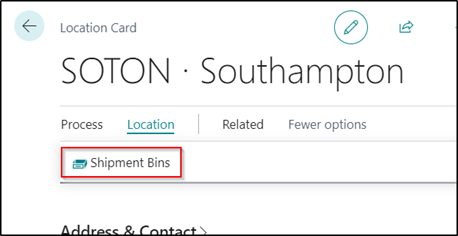 From here you can then link each Shipment Bin to a Shipment Agent/Shipping Agent Service where required.

NOTE – You can also access the Shipment Bin list from the Shipping Agent list where required.
Once all the setup has been completed, when a Warehouse Shipment is created for an order where the Shipping Agent/Shipping Agent Service has been associated with a Shipment Bin, then that bin will be automatically used on the Warehouse Shipment Lines and also on the Place lines for related Picks.
If the system cannot find an matching entry in the Shipment Bin table, then when the Warehouse Shipment is created, the Shipment Bin defined on the Location Card will be used instead as per standard Business Central functionality.