During the production process you may need to scrap a quantity amount.
NB: The Scrap quantity does not increase or decrease the Output Quantity.
If the Allow Scrap tick box has been selected within the MES Setup operators will be able to post Scrap. Once this is selected, Scrap Codes will need to be setup which can be found using the Search feature on your role centre.
If the default configuration option was run when setting up the MES solution, then you will also find some existing Scrap Codes codes already setup.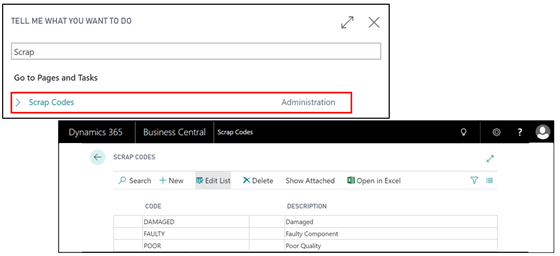 Creating a Scrap Code requires the creation of a Unique Code and Description to identify the Scrap Code itself. The Description is seen by the Operator when they choose to scrap a quantity, where as the code is used for reporting purposes.
With Scrap now activated it will become available from the Navigation Pane. To post Scrap the operator will need to select their Production Routing Line (if applicable) and then select Scrap.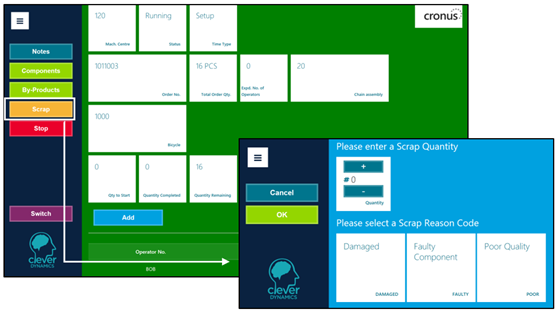 The Operator will then be directed to the Scrap screen from here they will need to enter a Quantity to Scrap and the Scrap Reason Code which we entered earlier in Microsoft Dynamics 365 Business Central.
NB: When scrap is posted the initial output quantity is not effected, so you can scrap more than what you plan on outputting.
Once you've posted the scrap, the Capacity Ledger Entry table is updated with the scrap quantity as shown below: