After you have setup up the Clever PrintNode Integration App you can start to setup the Clever Shipping Integration side. Unlike some of our other apps there is no default configuration that is run. This is because the setup of the Shipping Agent is held within the app you installed.
Find the page by searching for 'Shipping Agent Integration Setup'.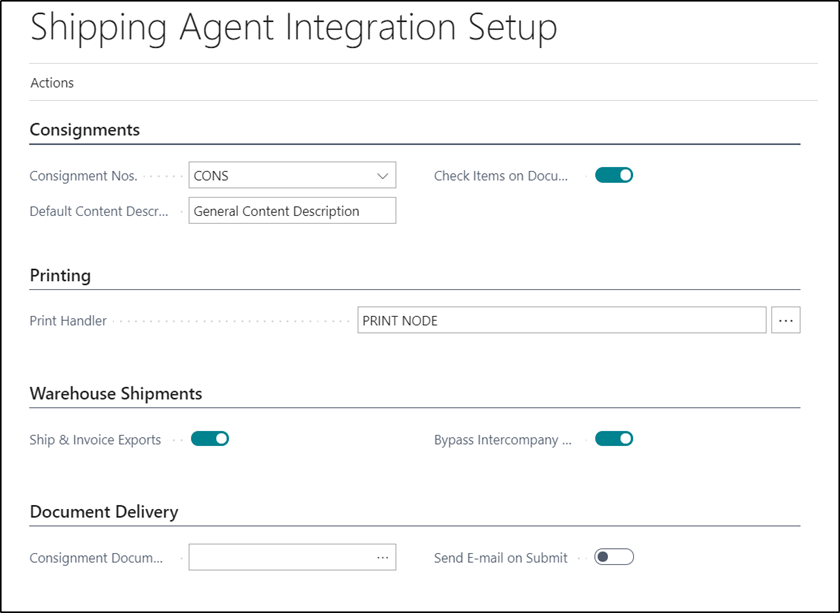 Consignment Nos. Field:
Select a No. Series for Consignments, note this is mandatory.
Default Content Description Field:
In this field, you can choose to enter in a default description for the type of items that you are shipping. Once populated, the value will be automatically copied onto all new Consignments created where it can then be amended as required.
Check Items on Document Release Field:
This field can be used to implement a check on the items to ensure all the fields required for shipping have been populated when a document is released. If they are not completed, then an error will appear advising you what information needs to be completed.
Printer Handler Field:
Select a Print Handler if you have one installed. This field is optional to complete but it will make the printing of labels more difficult if they have to be downloaded via your browser.
Ship & Invoice Exports Field:
If set to yes this removes the ship only option from warehouse shipments as an invoice number must be specified for exports, it is considerably easier if the transaction is shipped and invoiced on shipment for exports.
Note – The option defined in this field will be ignored if the Customer being used on the source document has a value defined in the 'IC Partner Code' field on their Customer Card unless the 'Bypass Intercompany Check' field is also enabled.
If it is not enabled, then any Intercompany Orders will be treated as Domestic and both the "Ship" and "Ship & Invoice" options will be displayed.
Bypass Intercompany Check Field:
This field works in conjunction with the 'Ship & Invoice Exports' field and allows you to be able to bypass the Intercompany Partner check for Export Consignments if enabled.
Document Delivery FastTab
If you have Clever Document Delivery installed, you will see the Document Delivery section at the bottom. Please refer to the Clever Document Delivery page to configure this if you haven't already.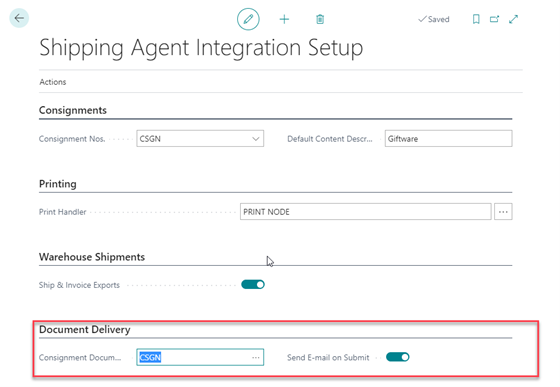 Consignment Document Type Field:
Select Consignment (CSGN)
Send E-mail on Submit Field:
If set to yes, this will email confirmation that the package is on its way and provide tracking information.