Adding Notes within MES can be helpful if something has happened during the production order that the operator feels is important enough to be attached to the operation. It is possible to limit operators from making Notes within the MES Setup screen as covered earlier, if you wish to only allow Microsoft Dynamics 365 Business Central users to add notes to Operations, this will depend upon how this function is to be used as part of business processes.
If the Allow User to Add Notes setting has been enabled on the MES Setup page, the MES operator will be able to select the Notes action from the Navigation Pane.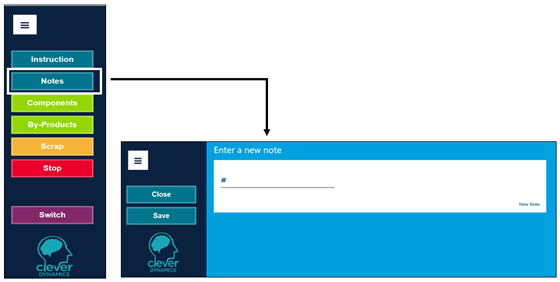 The Note box is editable, once the note has been added select Save to add the note to the Operation
Once Saved the Note will then disappear from device screen and will be pulled back to Microsoft Dynamics 365 Business Central . To view notes attached to Production Orders, open the relevant Released Production Order and select MES Comments from the Actions Tab.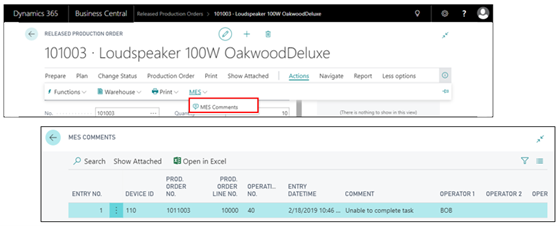 Notes can also be added in Microsoft Dynamics 365 Business Central to show within MES, these can be viewed and will show even if Operators have been set to not be allowed to add Notes themselves within MES Setup
To add a note, go to the Released Production Order screen, highlight the relevant production order and select the option Comments (this is the standard Microsoft Dynamics 365 Business Central function)
This will open the comment sheet, here enter the comment to be added to the Production Order on the device.
Once OK has been selected on the comment sheet the note will automatically feed across to the Notes screen on the device where operators will then be able to view them.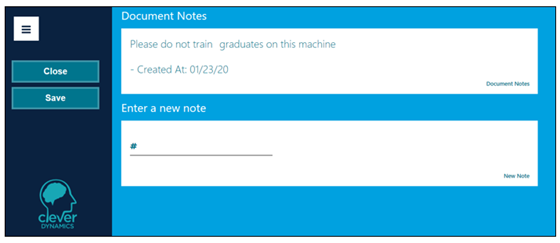 NB: Operators will not be able to edit Document Notes visible on the device